Simple Cloudflare Turnstile is the #1 Turnstile plugin for WordPress.
In this guide we will walk you through the process of adding an extra layer of security to your WordPress site using our user-friendly and privacy-preserving Turnstile service.
Step 1: Setting Up Your Cloudflare Account
To begin, create a Cloudflare account at: https://dash.cloudflare.com/sign-up
After your account is created, visit the Cloudflare Dashboard, choose "Turnstile" from the menu sidebar, and click "Add site".
You will then need to provide a site name, domain, and select the type of widget you prefer:
Managed (Recommended): Cloudflare will use visitor information to determine if an interactive challenge should be used. If an interaction is needed, the user will be asked to check a box (no images or text to decipher).
Non-interactive: A purely non-interactive challenge. Users will see a widget with a loading spinner, while the browser challenge is run.
Invisible: Challenge that does not require interaction.
After clicking the "Create" button, a "Site Key" and "Secret Key" will be generated.
Save these keys somewhere or keep the page open, as you'll need to use these later.
Step 2: Installing the "Simple Cloudflare Turnstile" Plugin
To install the Simple Cloudflare Turnstile plugin, navigate to "Plugins > Add New" in your WordPress admin area.
Search for "Simple Cloudflare Turnstile", click "Install", and finally click the "Activate" button once the plugin has been installed.
This will take you to the settings page for the Simple Cloudflare Turnstile plugin where you can customise several options:
Site Key and Secret Key.
Widget Theme (light or dark).
Widget Language.
Appearance Mode – when set to Turnstile Widget is only displayed in cases where an interaction is required. This essentially makes it "invisible" for most valid users.
Disable Submit Button until challenge is complete.
Custom Error Message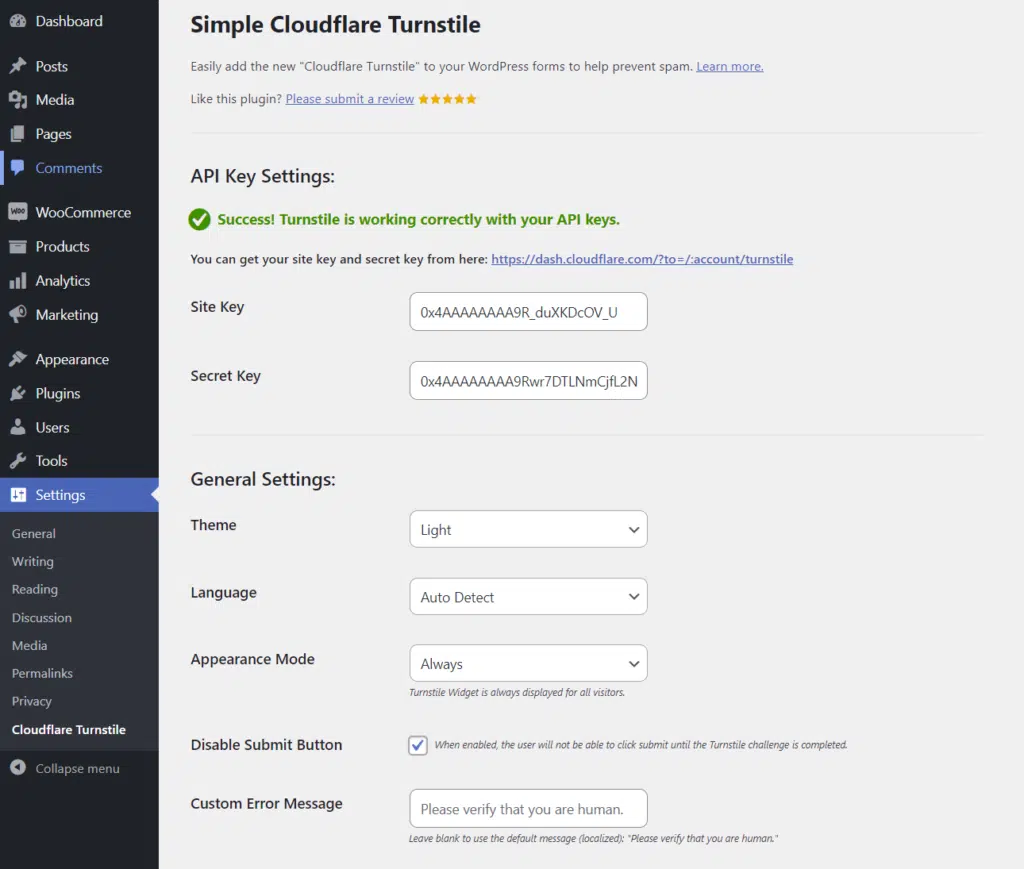 In the settings page, you will find various tabs based on the plugins your site has installed. Here, you can activate Turnstile on each of your website's forms.
Go ahead and toggle the tabs, and select the checkbox for each form where you want to enable Turnstile
There may also be some other settings available for specific integrations.
After initially setting your "Site Key" or "Secret Key", you must test the API response to ensure everything is functioning correctly.
To do this, complete the Turnstile challenge and click "TEST RESPONSE".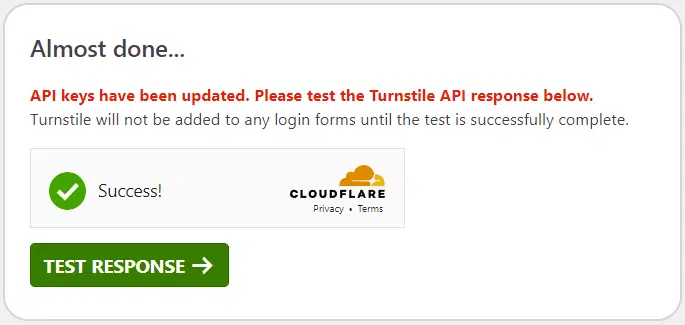 Supported Integrations
The Simple Cloudflare Turnstile plugin is compatible with many of the most popular form and eCommerce plugins available in WordPress.
You can currently enable Turnstile on the following forms:
WordPress

Login Form
Registration Form
Password Reset Form
Comments Form
WooCommerce

Checkout
Pay For Order
Login Form
Registration Form
Password Reset Form
Form Plugins

WPForms
Fluent Forms
Contact Form 7
Gravity Forms
Formidable Forms
Forminator Forms
Other Integrations

Elementor Pro Forms
Easy Digital Downloads Forms
Mailchimp for WordPress Forms
BuddyPress Registration Form
bbPress Create Topic & Reply Forms
MemberPress Forms
Ultimate Member Forms
WP-Members Forms
wpDiscuz Comments Form
WordPress Multisite.
What to Expect: Turnstile Widget
Once the Turnstile is enabled on your WordPress Login Form, it will look like this:
Checkout:
WooCommerce Login:
Contact Form: